Forgot to mention that my roommate last night was Barb K. from NY, who serves as our Sous Chef, responsible for assisting with food preparation, in particular chopping (vegetables, fruit) and coordinating cleanup after the meals.
Up at 6 am this morning and really enjoyed the sunrise over the beach behind the hotel – note the young woman who came to stretch as the sun rose.
For the first 15 miles today, we rode on A1A with gated communities with names like Ocean Pearl, Ocean Club, Sea Oats, and BayTree, on either side of the road – other than the entry gates, our view was greenery like this.
My riding partner for the first 23 miles was Nancy from Boston – I rode with her in Venice earlier in the month, and she was part of CCST13 (before breaking her shoulder in NM).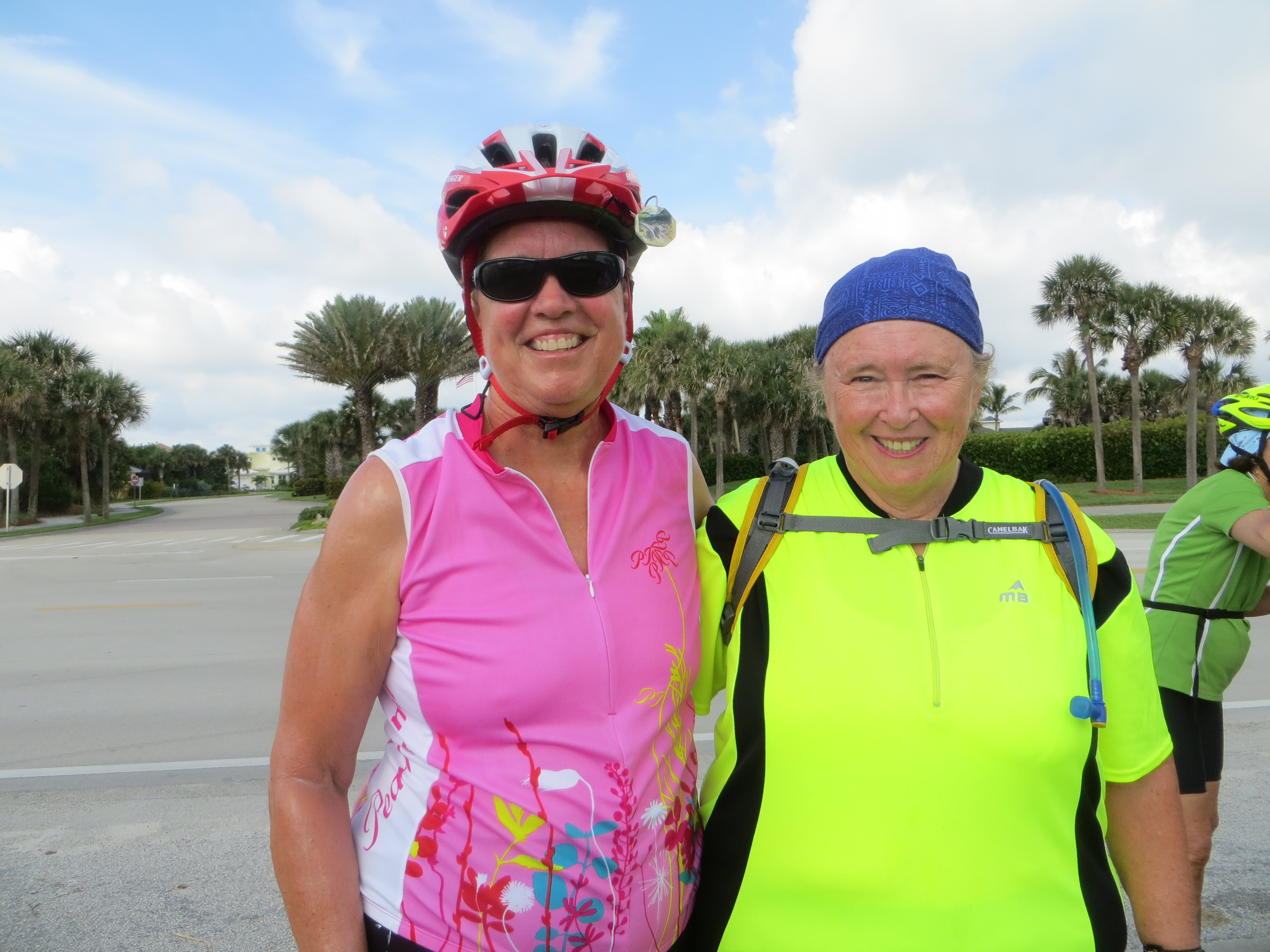 For over a mile, the ocean was visible on our right and the Indian River on our left – a narrow spit of land.
We climbed the bridge over the Sebastian Inlet, just missing some early morning surfers who were packing up their boards – and apparently also manatees (seen by Mary B.).  We did pass a young man, Brandon Messing from Grand Rapids, MI, who is skate-boarding from Fort Lauderdale to San Francisco, CA – he estimates it will take him 5 months.
We stopped for a nature break at the Barrier Island Sanctuary, established to protect the natural habitats of Brevard County.
Just beyond our first SAG stop at 20 miles was a monument to Juan Ponce de Leon who landed on Melbourne Beach in 1513, looking for the Fountain of Youth.
As we entered Melbourne Beach and Melbourne the traffic increased.  I did pass this stately mansion which I decided was my Super House of the Day.
After virtual flat riding, we suddenly found ourselves crossing this bridge over the Indian River, back to the "mainland."
We had a wonderful change of scenery in Rockledge along the Indian River – smaller, older homes, Spanish moss on the trees, lots of birds.
We had a headwind much of the day, but it did help to keep us cool, especially in the afternoon sun.
Our overnight stay is in Cocoa, not far from Cape Canaveral and the Kennedy Space Center – sadly no time for tours as we continue north.  My roommate is Pam from California.