This is a continuation of the post from yesterday.  We started Tuesday quite early, hoping to beat the traffic on the 7 Mile Bridge.  Going south, we frequently had the wind at our backs.
Across the bridge we were riding on a wide shoulder, with lots of road debris.  The Florida Keys Overseas Heritage Trail stretches from Key Largo to Key West, sometimes on the right side of the road, sometimes left, crossing back and forth without any signage.  At times there is a bike lane, other times a separate trail – this definitely adds to the adventure.  Some of the bridges have a separate, older bridge for cyclists, other times the trail ends suddenly because the upcoming bridge is closed – it certainly adds to the adventure.
At Ian and Cheryl's recommendation, we stopped at MM17 to see the Bat House, an unsuccessful effort to control the mosquitos in the Keys.  We have been lucky to have no mosquito problem on this tour.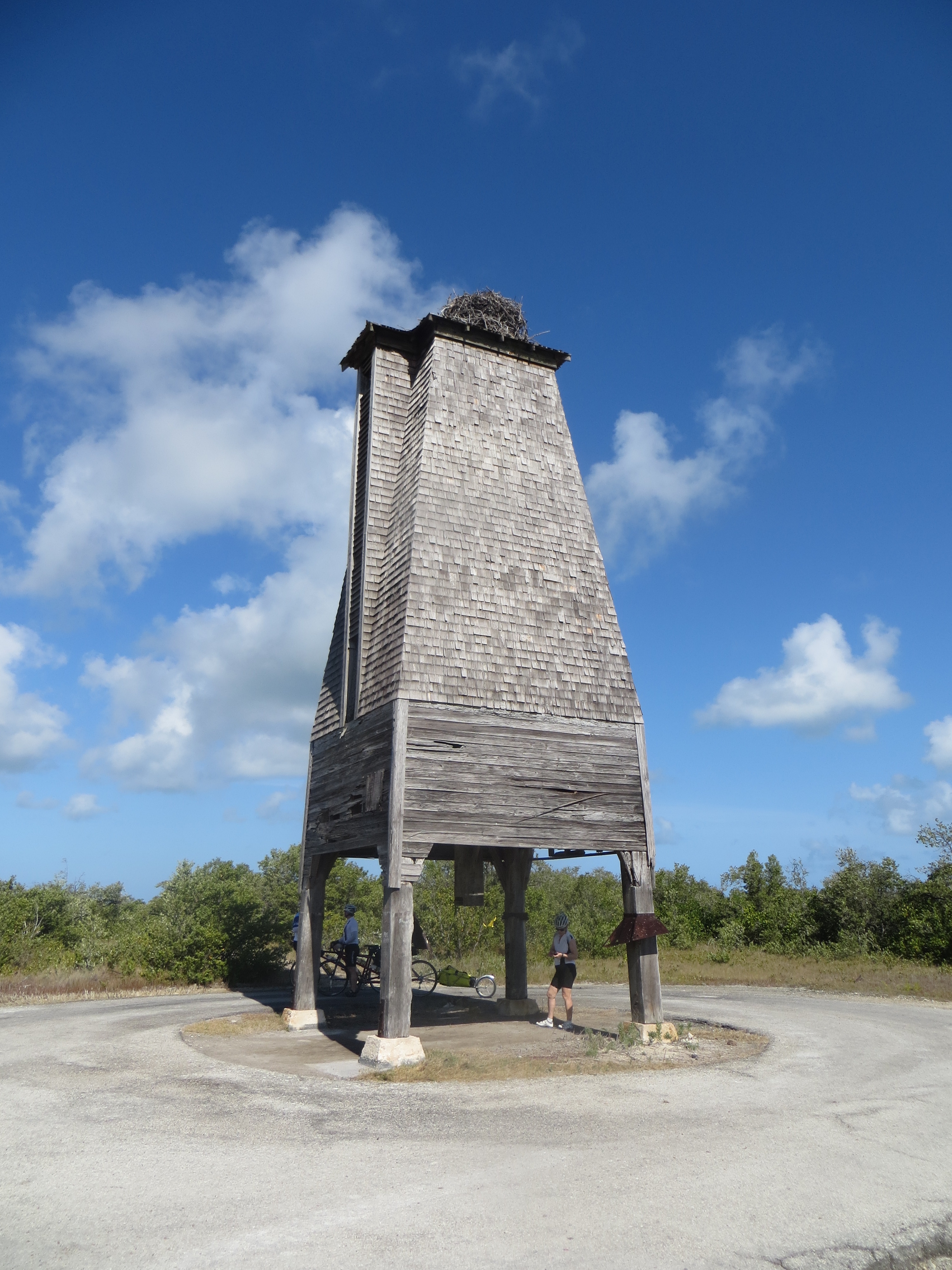 Close to MM10 we had a blow out flat and discovered a large hole in the side wall of our rear tire.  We were able to use a Clif bar wrapper for a boot – and luckily there is a full service bike shop in Key West.
After checking into our motel, El Patio, we went for lunch at Salute, on Higgs Beach – good food and nice to relax.  The weather has been very hot mid-day and we are glad to be off the bike by noon.  We did venture to the Southernmost Point, only to find a line for photo-taking.  We snapped a few shots, including some "extras."
While continuing our wander in Key West, we passed the Little White House, used primarily by Harry Truman.
We had a delicious dinner at The Flaming Buoy, owned by two men from Cincinnati.  I enjoyed one of their specialties, lobster Mac and cheese.  Then we power walked to catch the sunset from the harbor.
A long and fun-filled day!