We rolled out of our Key West hotel before dawn on Thursday, confident there would not be a line at the Southernmost Point. We touched the tandem back tire to the monument to signify my start from the most southern point in the U.S.  The joke was that the tandem rear tire will "kiss" my single rear tire to transfer that southern point.  The sun rose as we pedaled out of town.
We stopped at Mangrove Mama's for breakfast, finding little else on the road – and recommended by Ian and Cheryl.  The restroom art was enjoyable.
On Big Pine Key, we stopped at the Key Deer Refuge Visitors' Center, but chose not to ride the extra 4 miles into the Reserve.  We did see the back end of one of the deers, feeding in a driveway.
Before the 7 Mile Bridge, we stopped as I was feeling light-headed from the heat – some extra water and shade helped.  The wind was at our face across the bridge and the traffic was continuous.
When we got into Marathon, we stopped at the Winn Dixie to pick up lunch items, expecting that our hotel rooms would not yet be ready.  The Kmart was next door, with Wyland marine art decorating this shopping center wall.   While enjoying our lunch in the shade behind the motel, we had a visitor….We had seen a number of iguanas running into shade along the trail, but obviously this one was close.  Don used a plastic chair to chase it away.
Delightful dinner walking distance from the hotel at Herbie's.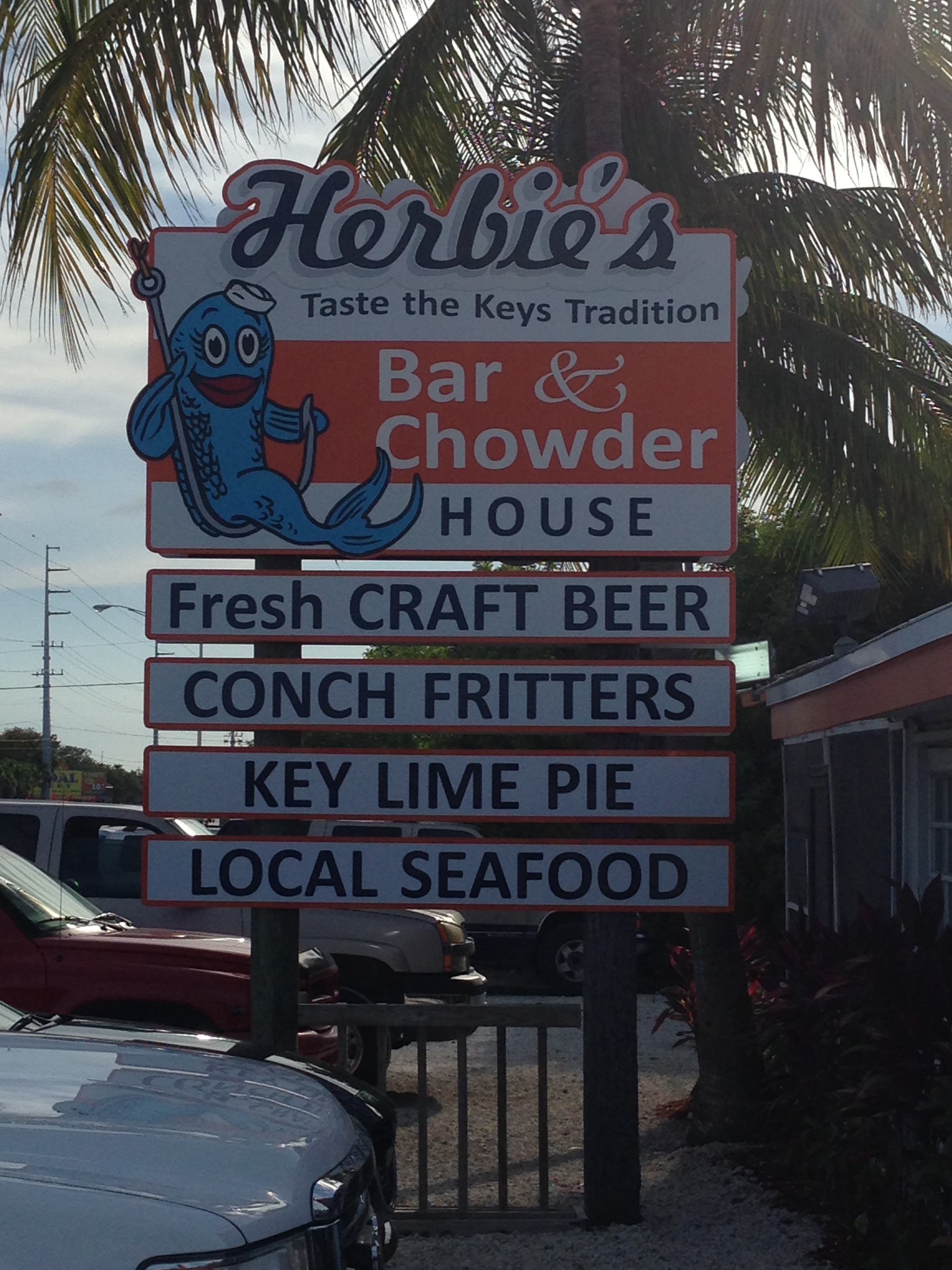 Started early again this morning (Friday) from Marathon – I took this photo as we were leaving the Key (I had missed it when we rode in on Monday).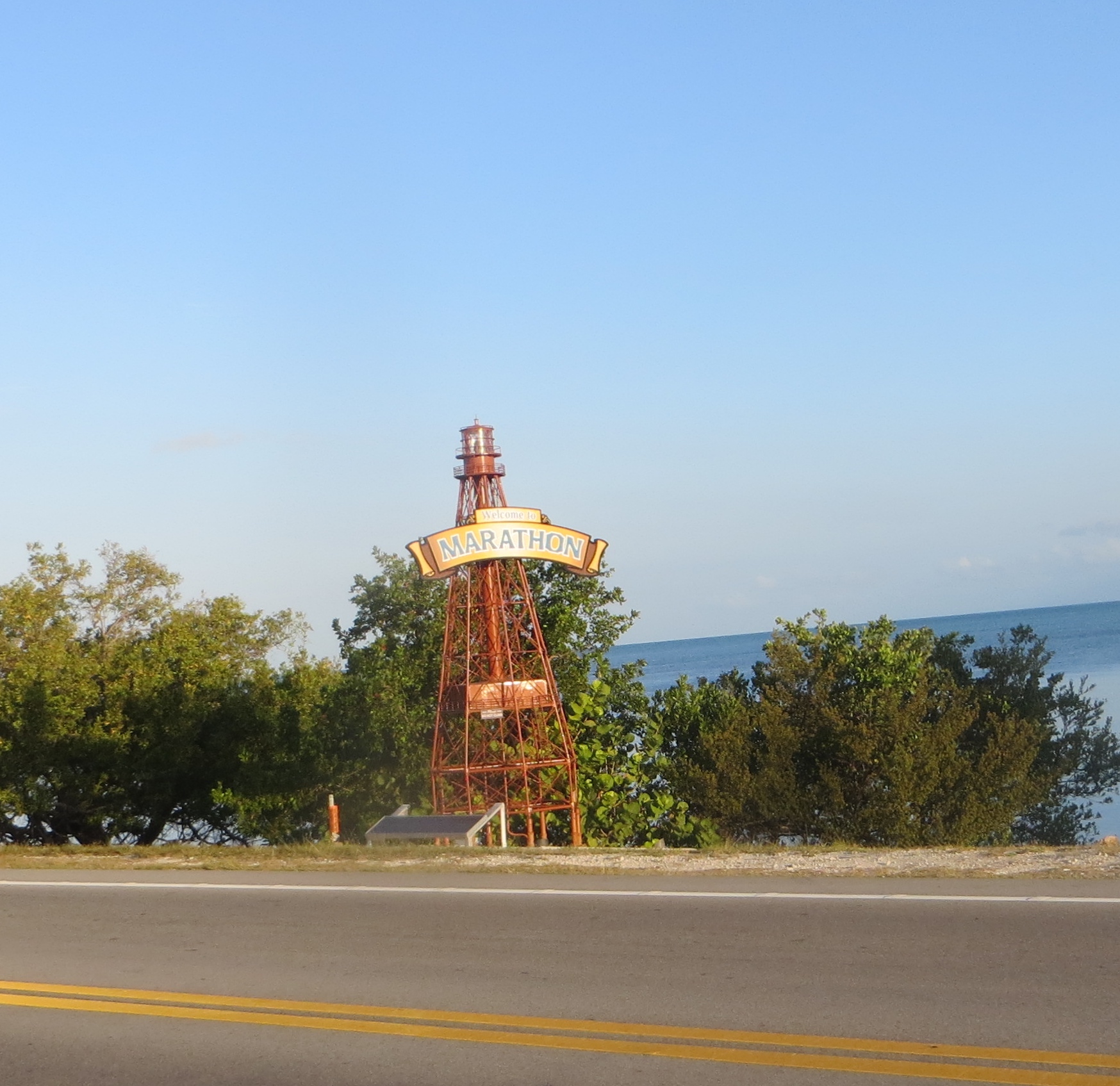 We had not stopped at the Hurricane Monument in Islamorada headed south, so we intentionally stopped as we were going north.  Lots of lives lost in 1935 in a tremendous hurricane.
We all agreed that today seemed especially hard, the heat and the wind.  We were glad to arrive in Key Largo and cool off in the Holiday Inn pool.  At lunch at Skipper's Dockside, the African Queen took a group out for a cruise.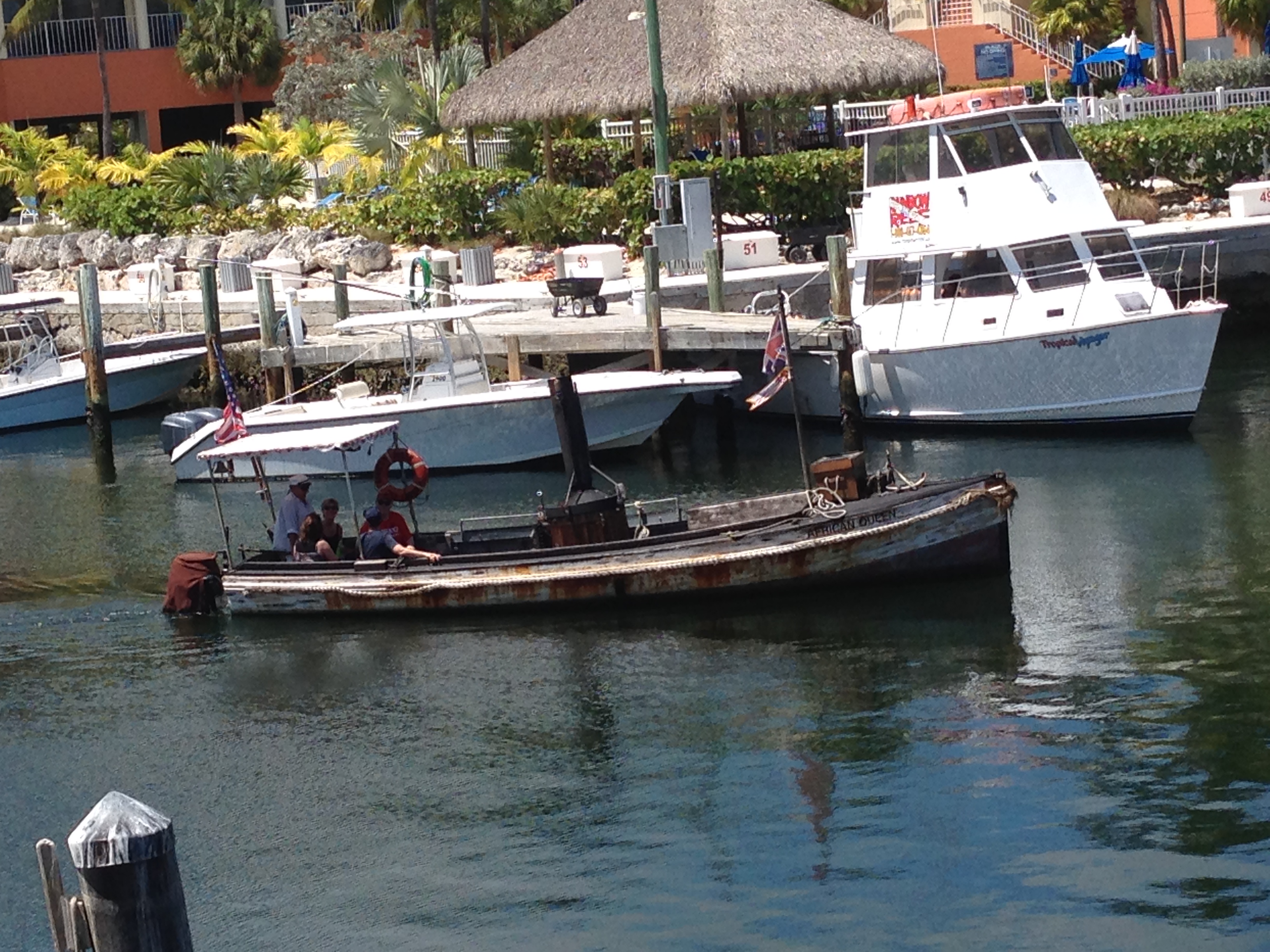 We didn't realize that the 100 Mile Marker was just up the road, so we walked for the photo op, then enjoyed our last Keys sunset.
Kent and Anne leave in the morning to drive back to Fort Wayne.  Don and I will ride back to Florida City to retrieve our van, and I will continue on to Miami on my single.  The adventure continues…..